---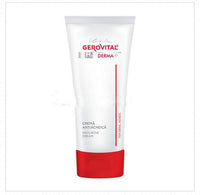 Action:

Face care Anti-acne treatment Special care

Age:

16+ 20+ 25+ 30+ 35+ 45+

Skin type:

Mixt skin Oily skin Sensitive skin Acne skin
Use:

Daily, in the morning and evening
The cream's effect improves acne skin symptoms (comedones, papules, pustules), especially in the case of light and medium juvenile acne and the association of internal therapy is recommended in severe cases under medical specialist control.

Hypoallergenic.
Paraben free.
Active ingredients
Ac.Net prevents the proliferation of micro-organisms and regulates sebum secretion by the Oleanolic Acid, NDGA, solubilised in a special carrier.

Zinc has sebum secretion regulating effect and promotes the healing process.

Soothex has a calming, skin redness reduction effect.

Panthenol promotes the healing process of wounds, having a cicatrising effect beneficial for the acne skin care.

Irgasan DP 300 has long-term antimicrobial effect a few hours after the last application.
Directions for use
Apply once or twice a day on the cleansed skin.
Reduces blackheads, acne formations, redness. Diminishes post-acne signs.