---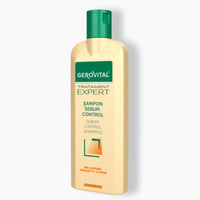 Improves the appearance of greasy hair, reducing the frequency of washing caused by the "dirty" appearance of the hair.
Increases the interval between hair washes
Reduces excessive hair loss
Ideal for oily hair with a tendency to get greasy
Contains Sebaryl and Bio-Capigen
Healthy, well-groomed hair
Use: Weekly care.
Caring for oily hair is a daily task that takes time, because due to the excessive secretion of sebum, the hair looks permanently dirty and unkempt. The new formula of Gerovital's Sebum Control shampoo normalizes the secretion of the sebaceous glands and increases the interval between washes.
Through a complex action on the scalp and hairline, the Gerovital Sebum Control Shampoo directly contributes to the reduction of excessive sebum secretion, removing the greasy and "dirty" appearance of the hair and restoring it to a healthy and fresh appearance.
In addition, the essential nutrients in the composition of the shampoo also contribute to combating excessive hair loss.
The shampoo is aimed at people with oily hair or with a tendency to get fat. The associated active principles normalize sebum secretion in the scalp, leaving hair beautiful, healthy and well-groomed.
How to use
It is recommended to use it systematically, by shampooing twice, once every 4-5 days. Rinse thoroughly.
Active ingredients and their role
The product is based on revolutionary bio-complexes, specially designed for oily hair.
Sebaryl and Bio-Capigen – complexes that regulate the secretion of the sebaceous glands and provide the nutrients for healthy hair growth
Ingredients list
Aqua, Sodium Laureth Sulfate, Sodium Chloride, Cocamidopropyl Betaine, Niacinamide, Faex Extract, Aesculus Hippocastanum Seed Extract, Ammonium Glycyrrhizate, Panthenol, Propylene Glycol, Zinc Gluconate, Caffeine, Biotin, Sodium Citrate, Placental Protein, Hydrolyzed Soy Protein, Zinc PCA, Glucose, Ornithine HCL, Arginine HCL, Pyridoxine HCL, Glucosamine HCL, Citrulline, Sodium Succinate, Polyquaternium-7, Citric Acid, Parfum, Sodium Benzoate, Potassium Sorbate, Chlorphenesin, Phenoxyethanol, Sorbic Acid, Linalool, Citronellol, Limonene
Rarely the list of ingredients can be changed. Check the ingredients listed on the label of the purchased product.