---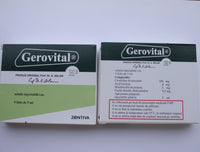 Original Gerovital H3 Injections
- 1 box contains 5 vials of 5ml.
You order how many boxes you need.
*You save on shipping fees if you buy more.
"Old age is full of suffering and pain and I regard this as a parasite of life which develops slowly and whether you know it or not, it takes hold of us. From the age of 50 onward, I declared war on aging and old age. We have enough possibilities to slow down the aging process and to delay old age onset. We are obliged to guard against it and to explain to healthy or sick patients, what it means to grow old, and what they have to do in order to extend their life in conditions of quality. My treatment and my method is a solution, Gerovital-H3 is not only a treatment, it is hope." (Prof. Dr. Ana Aslan)
Indications for Gerovital-H3®
Gerovital-H3® is indicated for people older than 40 years in order to retard the aging process and as a preventative and curative treatment for chronic degenerative diseases. Gerovital-H3® has been shown to be efficacious in all the following:
Moderate and light depressive states.
In troubles concerning attention, concentration and cognitive processes.
Chronic fatigue syndrome.
Sleep disorders.
Tegument dystrophies, trophic ulcers, atonic wounds.
Osteoarthritis, degenerating rheumatism, osteoporosis and during fracture consolidation periods.
Sexual management and improving sex drive.
Gerovital-H3® is an active anti-aterogenous factor and recommended in cerebral and peripheral arthrosclerosis.
Parkinson's disease and Parkinsonian syndromes.
Gerovital-H3® ameliorates the hair quality, its repigmentation and reduces alopecia (hair loss) and head skin seborrhoea (dandruff).
Due to the inhibition on the generation of the superoxide radical, Gerovital-H3® is also a powerful antioxidant.
Outcome of Gerovital-H3 ® treatment
Aslan's treatment produces a general transformation of the organism manifested as follows;
Desires to be active, have better memory, enhanced concentration and improved optimism.
Greater affective tone and psychic and vegetative balance.
Increased self-caring abilities and exercise capacity.
More ability to cope with the environment and increased resistance to infections.
Better balanced endocrine functions with estrogens reappearance and androgen reactivation.
Improved visual, audio and smell acuity.
Diminished extrapyramidal rigidity, improved gait and increased mobility.
Better skin, nails and mucous.
Hair growth stimulation with a tendency to repigmentate the hair and a more trophic aspect.
Better blood vessel reactivity.
Alleviation of the clinical symptoms of chronic diseases such as rheumatism, atherosclerosis, bronchial asthma, psoriasis, vitiligo and varicose ulcers.
Improves the quality of life retarding the rhythm of aging and preventing the chronic diseases.
Improved sex drive.
Administering method for Gerovital-H3®
The long term treatment with Gerovital-H3 ® has been extensively established by Aslan. In the beginning, Gerovital-H3 ® was administered only as injections. The tolerance has always been tested before starting the treatment; one subcutaneous injection of 1 ml on the first day, followed by an intramuscular injection of 2 ml the next day.
If no local or general reactions occur, proper treatment can be started. In the experience of more than 300,000 patients that completed this treatment in Romania, intolerance only occurred in 1 in 7000 cases.
Preventative treatment
Treatment of chronic diseases and aging consists of 4 courses of 12 injections and 4 courses of 24 pills, i.e., one course of 12 injections over 4 weeks (i.e., 3 injections per week), a 4-week break then one course of 24 pills over 12 days (one pill twice daily between meals), a 2-week break and then the cycle is resumed.
Starting from the age of 40 years, the prophylactic treatment with pills only is recommended in a series of 24 tablets during the first 12 days, with an interval of 2 months; 1st day, 1 tablet/ day, 2-hours after breakfast, increasing to the 12th day when 2 tablets per day are taken, (again 2-hours after meals, for example one at 10 AM and another at 4 PM). There should a series of 5 treatment courses in the year, which should be increased to 6 per year for persons over the age of 65.
Curative treatment
Chronic diseases require a 6 course of 12 injections, and 5 courses of 24 pills, yearly, i.e., one course of 12 injections over 4 weeks, a 2-week break, one course of 24 pills over 12 days (one pill twice daily between the meals); 2 week break. The cycle is then resumed.
Depending upon the outcomes the physician and patients can either shorten or extend the breaks. The first and second course of injections can be administered daily in order to study the individual reactivity.
Gerovital-H3® treatment can be individualised according to the disease/ diseases accompanying the aging and the patient's biological age.
Contraindications:
Gerovital-H3® should be avoided by anyone suffering or utilizing the following;
Allergy or sensitivity to Gerovital-H3® (or Novocaine).
Severe low blood pressure.
Low blood pressure in an upright position(orthostatic hypotension)
Cholinesterase deficiency
Epilepsy that is not controlled by medication.
Grade II or III atrioventricular block without pacemaker.
Any tumor(cancer)
Heart problems such as prolonged QT, which can cause irregular heartbeat(severe ventricular arrhythmias)
Gerovital-H3® cannot be used together with eserine or prostigmine.
Gerovital-H3® cannot be used at the same time as sulphamides.
Gerovital-H3® should not be used with an antibacterial treatment.
Intravascular injection is prohibited.
Side effects:
Gerovital-H3® side effects are uncommon. With injections minor side effects consist of a heating sensation and metallic taste; these effects disappear during the treatment. Other side effects are related to the skin; macular eruption, rash and itching which determine the interruption of the treatment and the remake of the tolerance test (1 ml injected id.) after the eruption has disappeared.
In spite of its monoamine oxidase (MAO) inhibitor character, Gerovital-H3® does not interfere, as the conventional MAO inhibitors do, with the tyramine from food (commonly called the cheese affect), which means there is no known incompatibility with Gerovital-H3® and food.