---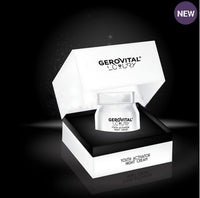 Action:

Face care Moisturizing Nourishing Lift

Age:

35+ 45+ 55+

Skin type:

Normal skin

Use:

Daily, in the evening

Gerovital Luxury - Increases cellular longevity by bringing an infusion of youth and beauty to the skin.

Designed to erase fatigue marks and restore the complexion's youthful appearance, the cream contains active principles which act in all stages of the dermal reconstruction. 

Dermatologically tested.
Gerovital Luxury is based on the latest breakthroughs in regenerative avant-garde medicine, with ingredients that revitalize youthful proteins and increase cell longevity. The products have both anti-age and immediate beauty.
Active ingredients
Tightenyl™ innovative active lift, acts on the extracellular matrix and improves the skin's three-dimensional structure. Lakesis, the precious oil extracted from the crystallized resin of Pistacia Lentiscus, reactivates the youth proteins FOXO and Klotho, restarts cellular activity and favor re-densification of the dermis.
Sepilift DPHP® along with Centerox™ favors the synthesis of new collagen fibers.
Niacinamid, Vitamin E and liposomal Vitamin C prevent oxidative reactions and positively influence skin regeneration and wrinkle mitigation.
Directions for use
Apply in the evening, on the face, neck, and décolletage.