---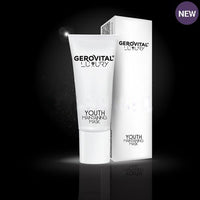 Action:

Face care

Age:

25+ 30+ 35+ 45+ 55+

Skin type:

All skin types

Use:

Weekly care
Gerovital Luxury - Increases cellular longevity by bringing an infusion of youth and beauty to the skin.

The Youth maintaing mask Gerovital Luxury purifies and invigorates skin lacking vitality, as it is a product ideal after a long and stressful day. 

Dermatologically tested.
Gerovital Luxury is based on the latest breakthroughs in regenerative avant-garde medicine, with ingredients that revitalize youthful proteins and increase cell longevity. The products have both anti-age and immediate beauty.
Active ingredients:
Rich in vitamins E and C, in natural Inca Omega oil and Shea Butter, this mask is improved with Clay, bentonite and Charcoal powder which act as a magnet for skin toxins and have active principles destined to protect the complexion against pollution and ambient stress. Neurophroline™, a state of the art ingredient obtained using a green technology, was especially designed for a general control of the reactions triggered by stress for the skin.
Directions for use:
The mask should be applied 2-3 times per week, after a precursory make-up removal. Spread onto the entire surface of the faces, necks, and décolletage's complexion in a uniform layer 2-3 mm thick, avoiding the area around the eyes.
For an effective purification of toxins, let act for 15-20 minutes when the total relaxation of the face and body is recommended.
Removal of the mask is achieved with the aid of a cotton disk under a moderate water jet at body temperature.