---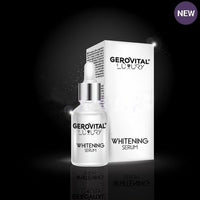 Action:

Face care Special care

Age:

25+ 30+ 35+ 45+ 55+

Skin type:

Skin with imperfections
Skin type:

Dry skin Normal skin
Use:

Daily. Mornings and Evenings
Gerovital Luxury - Increases cellular longevity by bringing an infusion of youth and beauty to the skin.


This is a product with a strong action intended for persons who, regardless of their age, show pigment spots, irregularities of color and freckles. 
Dermatologically tested
.
Gerovital Luxury is based on the latest breakthroughs in regenerative avant-garde medicine, with ingredients that revitalize youthful proteins and increase cell longevity. The products have both anti-age and immediate beauty.
Active ingredients
It contains ingredients renowned for the effectiveness of the skin's discoloration action:
alpha Arbutin an ingredient that inhibits the tyrosinase enzyme;
Niacinamide and liposomes with vitamin C with an antioxidative and skin brightening role;
DermaPep™UL a multifunctional peptide complex for whitening;
Neurophroline™, innovative ingredient obtained using a green technology, with positive effects on the skin's coloration and brightness.
Directions for use
Apply 2 times a day, for at least 2 months, on the areas with intense pigmentation.
The cosmetic treatment with this serum is mandatorily associated with a solar protection product during the day and, if necessary, with a soothing action product. An effective UV protection should be provided and avoidance of exposure to sunlight throughout the entire period of use is recommended, as is avoiding applying products with sensitizing potential.