---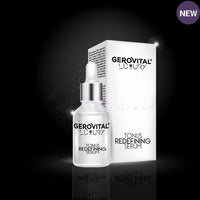 Action:

Face care Moisturizing Lift

Age:

30+ 35+ 45+ 55+

Skin type:

Dry skin Normal skin
Use:

Daily. Mornings and Evenings
Gerovital Luxury - Increases cellular longevity by bringing an infusion of youth and beauty to the skin.


Tonus redefining serum Gerovital Luxury is a concentrated serum with innovative, latest generation active principles. The serum ensures protection at cellular nucleus level and is restoring the skin's three-dimensional structure. The skin regains its firmness and elasticity.

Dermatologically tested.
Gerovital Luxury is based on the latest breakthroughs in regenerative avant-garde medicine, with ingredients that revitalize youthful proteins and increase cell longevity. The products have both anti-age and immediate beauty.
Active ingredients
Lakesis has a protective action on the youth's proteins, FOXO and Klotho, increasing cellular longevity
Tightenyl™ innovative active lift is a structural bio-precursory of the extracellular matrix, with a role in re-densification. 
Lipo-ceravit C acts in synergy with Tightenyl™ and Lakesis for visible and long-lasting effects.
Directions for use
Apply in the morning and evening on the face, neck, and décolletage. Shake before use.