---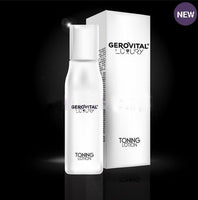 Action:

Tonifying Face care

Age:

25+ 30+ 35+ 45+ 55+

Skin type:

Mixt skin

Use:

Daily, in the morning and evening
Gerovital Luxury - Increases cellular longevity by bringing an infusion of youth and beauty to the skin.

The Toning Lotion Gerovital Luxury contains ingredients with a toning action which energize and revitalize the skin.

Dermatologically tested.
Gerovital Luxury is based on the latest breakthroughs in regenerative avant-garde medicine, with ingredients that revitalize youthful proteins and increase cell longevity. The products have both anti-age and immediate beauty.
Active ingredients
Sepitonic M3®, a cocktail of mineral salts, stimulate cellular metabolism, and aid the skin to quickly and correctly regenerate.
Niacinamide activates capillary microcirculation and positively influences the skin's tonus.
Neurophroline™, an innovating ingredient obtained using a green technology, has visible effects on the complexion's freshness.
Directions for use
Use at the end of the skin's make-up removal stage, before applying other products from your daily routine. Apply using a make-up removal disk. There is no need for rinsing.