---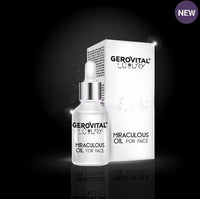 Action:

Face care Moisturizing Nourishing

Age:

35+ 45+ 55+

Skin type:

Dry skin
Use:

Daily. Mornings and Evenings
Gerovital Luxury - Increases cellular longevity by bringing an infusion of youth and beauty to the skin.
The miraculous oil for face Gerovital Luxury offers an elegant shield in order to preserve the skin firm and bright.

Dermatologically tested


Gerovital Luxury is based on the latest breakthroughs in regenerative avant-garde medicine, with ingredients that revitalize youthful proteins and increase cell longevity. The products have both anti-age and immediate beauty.
Active ingredients
It contains a mixture of nurturing oils including: almond oil, avocado oil, marigold oil, and organic oily extract of poppy flowers.
The miraculous oil is improved with vitamins A and E with antioxidative and skin nurturing actions.
Another truly miraculous ingredient of this product is Lakesis which reactivates the youth proteins FOXO and Klotho, leads to a revival of cellular activity, and promotes the dermal re-densification processes.
Directions for use
To be applied in the morning and evening and afterwards, you may use another daily care product.