---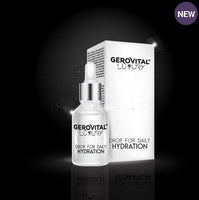 Action:

Face care Moisturizing

Age:

25+ 30+ 35+ 45+ 55+

Skin type:

Normal skin
Use:

Daily. Mornings and Evenings
Gerovital Luxury - Increases cellular longevity by bringing an infusion of youth and beauty to the skin.


Due to a balanced association of hydrating ingredients, the product ensures the interception and preservation of humidity on the surface and on the inside of the skin. 
Dermatologically tested
Gerovital Luxury is based on the latest breakthroughs in regenerative avant-garde medicine, with ingredients that revitalize youthful proteins and increase cell longevity. The products have both anti-age and immediate beauty.
Active ingredients
The Hyaceramidyl liposomes release small size hyaluronic acid into the skin, providing for hydration within the dermis. The innovative complex Tightenyl® contributes in the restoration of the extracellular matrix and inherently, in the preservation of the capacity of interception of water within the dermis.
Lipomoist 2036 a complex of amino-acids and hydrolyzed vegetal proteins embedded in a fluid molecular film adhering on the skin diminishes waster loss in the dermis.
Syn UP™ is a sophisticated dipeptide derivate which visibly improves the degree of hydration and resistance of the skin against ambient stress.

Directions for use
Apply in the in morning and evening and afterwards you may use another daily care product.