---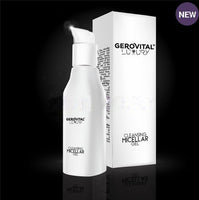 Action:

Face care Cleansing

Age:

25+ 30+ 35+ 45+ 55+

Skin type:

Normal skin

Use:

Daily, in the morning and evening
Gerovital Luxury - Increases cellular longevity by bringing an infusion of youth and beauty to the skin.

Cleansing micellar gel Gerovital Luxury is in-line with the current skin cleansing trends, and it works due to the action of the formed micelles which aid in the gentle carrying and elimination of mechanical impurities, traces of make-up, sebum, dead cells etc.

Dermatologically tested
.
Gerovital Luxury is based on the latest breakthroughs in regenerative avant-garde medicine, with ingredients that revitalize youthful proteins and increase cell longevity. The products have both anti-age and immediate beauty.
Active ingredients
The gel contains Aquaxyl and Neurophroline™, ingredients of natural origin with a beneficial, skin protective action.
Directions for use
The gel should be spread onto the entire surface of the skin, massaged, and removed with the aid of a dry cotton disk. There is no need for rinsing.
Benefits
Un produs complex, foarte concentrat, cu eficiență demonstrată clinic, beneficii obținute imediat, vizibile, dar și de durată.