---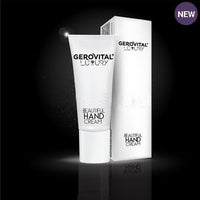 Action:

Body care Hand care
Gerovital Luxury - Increases cellular longevity by bringing an infusion of youth and beauty to the skin.

Beautiful hand cream Gerovital Luxury is contributing in the restoration of the skin's barrier function. The cream protects against excessive transepidermal water loss, providing restoration and nurturing of the hands' skin. Protected adequately, the skin on the hands is more resistant to the aggression of environmental factors and daily stress. 

Dermatologically tested.
Gerovital Luxury is based on the latest breakthroughs in regenerative avant-garde medicine, with ingredients that revitalize youthful proteins and increase cell longevity. The products have both anti-age and immediate beauty.
Active ingredients
With a structure rich in vegetal squalene, the cream emolliates hands without leaving an oily sensation. The associated active principles, Neurophroline™, Adenosine, Niacinamide and Aquaxyl aid in maintaining the cutaneous balance.
Directions for use:
Use daily, as many times as necessary.