---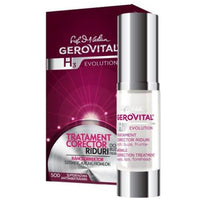 Action: Anti-wrinkle

Skin Type: Dry skin, Dehydrated skin 

Age: 30+ 35+ 45+ 55+
Use: Daily care, morning and evening.

It is a complex product that attenuates both deep and expressive wrinkles.

Expression wrinkles are diminished by the miorelaxant action of Gatuline and Ginger extracts. The wrinkles are noticeably attenuated one day after application, and within 10 days the skin microrelief is substantially improved.

Deep wrinkles are diminished by the synergistic action of the ingredients Trylagen, Superoxide Dismutase, Vitamin A and E that prevent structural alterations of collagen fibers and stimulate new collagen synthesis.
Liposomes with Hyaluronic Acid are absorbed into the skin, the wrinkles are filled from the inside and smooth.

Usage:
It is used in the morning and evening, after cleansing and toning. Apply in the area around the eyes, lips and forehead and massage gently until full absorption. It is associated with daily maintenance cream.

The product is packaged in an airless bottle. This system has the main difference that there is no immersion tube, but a diaphragm that rises to the product discharge by actuating the button. Advantages of the airless system are: it allows to drain the contents almost 100%, the product dosing is constant, the risk of product contamination is low. At first use approx. 5-7 actuations for priming the pump.

Benefits:
Wrinkles much diminished.