---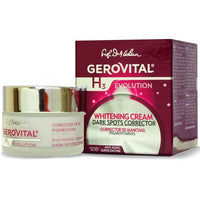 Action: Skin Care, Special care

Skin Type: Skin with imperfections with dark spots

Age: 30+ 35+ 45+ 55+

Use: Daily care, morning and evening .

Cream gives your skin shine and beauty by removing pigment spots.
The cream discolours the pigmentation spots, blushing, renders the complexity of the complexion by the synergistic action of Arbutin and the AHA Care Complex.

Superoxide Dismutase, along with Vitamin E and Boswellia Serrata, regenerates and protects the skin against ultraviolet rays, moisturizes the skin, reduces fine lines and wrinkles.
Usage:
The cream is applied twice a day, at least 2 months, on affected areas.
The skin discoloration and skin bleaching treatment is preferably done in less sun, winter and autumn seasons, providing a good skin UV protection along with the discoloration process by using medium factor maintenance creams
or high UV protection (minimum 30 protection factor).
Any irritation of the skin temporarily suspends the application of the cream and resumes after 2-3 days.
Benefits:
The bright, uniform, spotless skin