---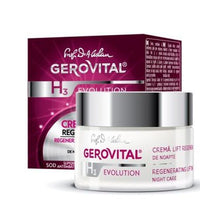 Action: Anti-aging, Anti-wrinkle, Lifting, Nourishing 

Skin Type: Dry skin, Dehydrated skin

Age: 30+ 35+ 45+ 55+

Use: Daily care, in the evening.

 Cream helps rejuvenate and remodel the skin by reducing fine lines and wrinkles.
The intense lift effect is provided by Sepilift and Gatuline Expression. Sepilift gives the skin long-lasting moisturizing, anti-wrinkle and toning effects.

Superoxide Dismutase, along with Vitamins A and E, protects collagen fibers to prevent wrinkles. GP4G, a pure energy source, supports regenerative and restructuring processes.

Liposomes with Sodium Hyaluronate are absorbed into the skin and fill the wrinkles inside.

It is recommended for care of young or mature, dry or dry tenderness.

Usage:
It is used in the evening, after cleansing and toning.

Benefits:
She firmly, without wrinkles, regenerated.