---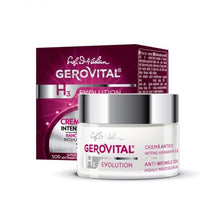 Action: Moisturizing, Anti-wrinkle, Sun protection 

Skin Type: Dry skin, Dehydrated skin, Mature skin 

Age:  45+ 55+
Use: Daily care, in the morning.

Cream is a combination of multifunctional ingredients that provide anti-wrinkle, intense moisturizing, UV protection. It plays the vitality of the skin, extending its youthful appearance.
Without oxybenzone. No parabens.

For a day cream you do not need to apply a high SPF if your daytime work is in an office. There is no need to load the complexion. Instead, if you are going to spend more time in the sun, we recommend products with SPF 50.

The antioxidant system - Superoxide Dismutase, Trylagen, GP4G - provides the pure cell energy required, antioxidant protection and collagen renewal.
The combination of Sepilift - Lipomoist ingredients ensures tonication and increased water holding capacity in tissues.

Usage:
It is applied in the morning, on the face, neck and neck, after a correct removal. It is an excellent makeup base.

Benefits:
Wrinkleless, intensely hydrated, protected.