---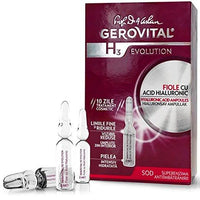 Action: Anti-wrinkle, Anti-ageing, Special care 

Skin Type: All skin types 

Age: 30+ 35+ 45+ 55+
Use: Daily care.

Hyaluronic acid vials are recommended for intensive hydration treatments, increased skin elasticity and wrinkle reduction.
Considering the complexity of this product, it can be used with good results for each skin type: oily skin - hydration, protection, increase of elasticity; normal skin - hydration, protection; dry skin and mature skin - hydration, regeneration, increased elasticity, anti-wrinkle effects.

Active Ingredients:
The vials contain a serum rich in Superoxide Dismutase and Pure Hyaluronic Acid and liposomal, with intense moisturizing effects and wrinkle smoothing.
Pure Hyaluronic Acid has intense moisturizing effects by acting dual, by rebuilding water reserves in the skin and diminishing transsepidermal water losses.
Liposomes with Hyaluronic Acid penetrate into the skin and fill the wrinkles from inside, so wrinkles and fine lines are greatly diminished.
The anti-age and regeneration effect is the result of combining a rich serum with Superoxide Dismutase and Hyaluronic Acid pure powder and liposomal, with intense wrinkle effects. Dismutin is standardized in superoxide dismutase, the antioxidant enzyme found in human skin. It delays signs of skin aging (wrinkle formation, dehydration, pigmentation and loss of elasticity) by protecting hyaluronic acid and collagen and elastin fibers from oxidative degradation.
Used regularly, the product reduces visible deep wrinkles.

Ussage:
All the serum is given at the bottom of the ampoule and then the vial is positioned with the tear point in front. To protect your hands, the vial is wrapped in a napkin before it breaks. All contents of ampoule are used for one application only!
Use only for external use!

The contents of an ampoule flap over the freshly cleansed skin and apply lightly to the face, neck, and neckline. Massage gently around your eyes without the product getting in contact with your eyes.
The vials are used in the morning or in the evening for 10 days of treatment. For lasting effects, this treatment is applied monthly.
After the serum is absorbed, apply the Gerovital H3 Evolution daily care cream.


Benefits:
After 28 days of use:
-Reduces depth of deep wrinkles by up to 24% *.
-The hydration level increased by up to 66.7% one hour after the first application *.