---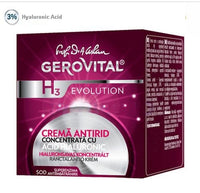 Action: Moisturizing, Anti-wrinkle, Anti-ageing 

Skin Type: Dry skin, Dehydrated skin, Mature skin 

Age: 30+ 35+ 45+ 55+
Use: Daily care, morning and evening.

The cream it is rich in pure Hyaluronic Acid and 3% liposomal, SOD, GP4G and Trylagen, anti-wrinkle ingredients, wrinkle filling and smoothing, skin rejuvenation and intense moisturizing.
Pure Hyaluronic Acid has intensive, hydrating effects acting on a dual basis, by replenishing the water reserves of the skin and diminishing transepidermal water loss. Liposomes with Hyaluronic Acid penetrate into the skin and fill the wrinkles from the inside, so wrinkles and fine lines are greatly diminished.
SOD, called "anti-aging super-enzyme," provides long-term firmness of the skin, acting against oxidative degradation and protecting the collagen and elastin protein chains responsible for skin elasticity. SOD is the most active antioxidant enzyme of natural origin.
Trylagen acts against the wrinkles and provides a smoother, more elastic skin, stimulating the production of new collagen and elastin fibers, as a support for synthesis.
GP4G regenerates the skin from inside, being a pure energy source that suppresses the diminished capacity of cells to generate and store energy.

Ussage
It is used in the morning and evening on the face neck and neckline. It is associated with Hyaluronic Acid Concentrated Serum.