---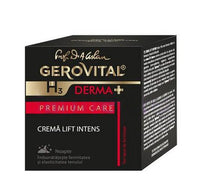 Action:

Face care Anti-wrinkle Lift

Age:

30+ 35+ 45+ 55+

Skin type:

All skin types
Use:

Daily, in the evening
Lifting booster cream contains active ingredients that act on the extracellular matrix, crucially important for the dermis and for the epidermal-dermal junction, significantly improving skin elasticity. 
Active ingredients
Tightenyl® is an innovating active lift, activates all proteoglycans synthesis ways in the cell, with obvious clinical results on skin firmness and elasticity.
Hyaceramidyl, liposomes with hyaluronic acid, have an important input of low-molecular weight hyaluronate, squalane and ceramide, having a synergistic action with Tightenyl®.
Directions for use
Use it in the evening on your face, neck and décolletage.