---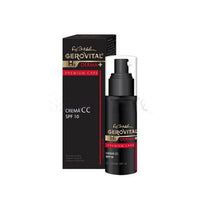 Action:

Sunscreen Face care Moisturizing Anti-wrinkle

Age:

30+ 35+ 45+ 55+

Skin type:

All skin types
Use:

Daily, in the morning

A multipurpose cream with light texture, combining the properties of a makeup product with the benefits of a skincare product. 
Medium tint. 
Active ingredients
Matrixyl synthe'6 increases dermal density and firmness by stimulating synthesis of extracellular matrix components. Aquaxyl is an exceptional moisturizer that improves the barrier function of the skin.
Directions for use
Apply to face and neck after a preliminary cleaning in circular motions, from the centre toward the outside.
Benefits
Natural-looking, uniform colour.