---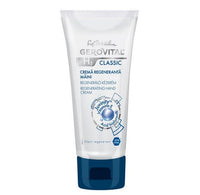 Skin type:
All skin types
Apply to wet skin with light massage, leaving a pleasant soft feel.
This cream helps maintain an optimal level of moisturizing the skin of the hands, prevents signs of aging such as dry hands, thin skin, prominent vein appearance and attenuates them.
Against pigmentation spots we recommend the Gerovital H3 Evolution - Whitening Cream Dark Spots Corrector, it also has action on the spots on the hands. To keep the stains under control use this cream every autumn-winter for about 3-4 months a year. The skin discoloration and skin bleaching treatment is preferably done in less sun, winter and autumn seasons, providing a good skin UV protection along with the discoloration process by using medium factor maintenance creams or high UV protection (minimum 30 protection factor).
Any irritation of the skin temporarily suspends the application of the cream and resumes after 2-3 days.
Active ingredients and their role:
The regenerating hand cream contains the innovative H3 Anti-Age Complex consisting of:
Hyaluronic Acid - provides long-lasting hydration in depth and on the surface
Vitamin E - delays the signs of metabolic aging
Juvinity - invigorates cell replication
Ingredients list:
Aqua, Glycerin, Stearic Acid, Palmitic Acid, Glycine Soja Oil, Ceteareth-6, Stearyl Alcohol, Cetearyl Alcohol, Caprylic/Capric Triglyceride, Lanolin, Phenoxyethanol, Ethylhexylglycerin, Ceteareth-25, Tocopheryl Acetate, Parfum, Triethanolamine, Geranylgeranylisopropanol, Sodium Hyaluronate, BHA, Carbomer, Tetrasodium EDTA, Sodium Hydroxide
Rarely the list of ingredients can be changed. Check the ingredients listed on the label of the purchased product.