---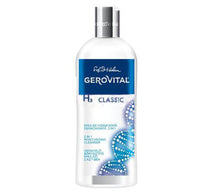 Gerovital H3 Prof. Dr. Ana Aslan is the world's first anti-age brand.
 The Anti-Age Complex: Prevents and attenuates the signs of senescence of mature and dry skin and has a geriatric effect on the skin.

    Hyaluronic Acid: Ensures the mature skin optimal nutrition and hydration levels, restoring the protective hydrophilic barrier.
    Vitamin E: Limits oxidative stress, protects hyaluronic acid, collagen fibers and elastin.
    Juvinity: Delays metabolic aging and cell nuclei, invigorates cellular replication.

Juvinity, the new ingredient that is part of the Anti-Age Complex, is also called the Youth Complex, the long-lasting skin reservoir.
Action: 
Moisturizing, Cleansing,  Skin Care
Skin type: 
Dry skin, Dehydrated skin, Mature skin 
Use:
Daily care, morning and evening 
Ensures perfect cleansing, hydration and optimal skin toning. Hyaluronic acid hydrates in-depth, vitamin E and Juvinity delays metabolic aging.

Way of ussage
Apply to the face, neck and neckline in the morning and evening, gently massage to emulsify the impurities, remove with a cosmetic disc.
Ingredients list:
Aqua, Glycine Soja Oil, Caprylic Capric Triglyceride, Pentylene Glycol, Cetearyl Alcohol, Glycerin, Palmitic Stearic Acid, Phenoxyethanol, Ceteareth-22, Glyceryl Stearate, Tocopheryl Acetate, Parfum, Polyacrylamide, Ethylhexylglycerin, Tetrasodium EDTA, BHA, C13-C14 Isoparaffin, Laureth-7, Sodium Hyaluronate, Sodium Hydroxide
Rarely the list of ingredients can be changed. Check the ingredients listed on the label of the purchased product.