---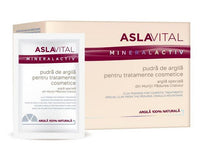 Special Clay from the Padurea Craiului Mountains.
100% natural clay.
Depending on your needs and skin type, the clay powder is combined with various fruits, vegetables, dairy etc. to obtain a cosmetic masks beneficial in relieving various skin problems.
Action:
Face care, Special care
Age:
16+
20+
25+
30+
35+
45+
55+
Skin type:
Dry skin,
Combination skin,
Oily skin,
Normal skin,
Sensitive skin,
Acne skin,
Dehydrated
Mature skin
Thanks to its qualities, Clay is a natural cosmetic product of great value which can be used successfully in treating all types of skin, even the most sensitive ones (allergic, seborrheic, acne, couperose, irritated and wrinkled) and for naturist cosmetic treatments, respectively to prepare instant masks.

Way of ussage:
To obtain cosmetic masks, the special Clay Powder can be mixed with different fruit and vegetable juices, yoghurt, milk, honey, olive oil, yolk etc, depending on the skin type.

For oily skins, it is recommended to combine the special Clay with natural juices with astringent effect, such as those obtained from tomatoes, lemon, cucumbers, apricots, peaches etc,
For normal and dry skins, with ingredients having moisturizing and nourishing effect: cucumbers, celery, milk, honey, olive oil, yolk.

For acne treatment prepare a mixture of Clay powder and tap water, water maintained on wheat bran, sea water, spring water to obtain a rather thick, easy-to-apply paste.

Leave for action up to 20-30 minutes, especially for acne skin 30 minutes is recommended .